April means another earnings season is upon us, bringing the potential increase of choppiness to equities. Meanwhile, since the start of 2021, as fears regarding the pandemic have begun to subside slowly, higher inflation expectations have pushed the U.S. 10-year Treasury yield to 1.71 and beyond.
In the U.S., the official inflation level is measured by the Consumer Price Index, CPI. The Fed seems comfortable with the trend of rising inflation expectations.
We recently discussed inflation as well as U.S. Treasury inflation-protected securities (TIPS) as an appropriate asset for an inflationary world. TIPS are debt securities for which the coupon and principal payments are indexed to the CPI.
By indexing the cash flows of the bonds to an inflation index, TIPS play an essential role in hedging this economic risk. In addition, Treasury securities, including TIPS, are backed by the credit and full faith of the U.S. government.
Recent research led by Stefania D'Amico of the Division of Monetary Affairs, Federal Reserve Board of Governors, highlights:
"Since its inception in 1997, the market for TIPS has grown substantially and now comprises about 8% of the outstanding Treasury debt market."
In the coming months, there could potentially be another glorious leg higher in stocks. But not everyone is convinced that the incredible bull momentum of the past year can continue. Many analysts point out that historically stocks have performed poorly once inflation pressures began to rise significantly. Therefore, today, we'll introduce two more TIPS exchange-traded funds (ETFs) that might appeal to a range of readers in a post-pandemic economy.
1. PIMCO 1-5 Year U.S. TIPS Index Exchange-Traded Fund
Current Price: $54.73
52-Week Range: $51.64-$55.03
Yield: 1.83%
Expense Ratio: 0.2% per year
The PIMCO 1-5 Year U.S. TIPS Index Exchange-Traded Fund (NYSE:STPZ) invests primarily in TIPS with a maturity of at least one year and less than five years. They also have a minimum of $1 billion of outstanding face value.
The ETF tracks the BofA Merrill Lynch 1-5 Year US Inflation-Linked Treasury IndexSM. The fund started trading in August 2009 and has around $827 million in net assets.
STPZ currently invests in 16 TIPS and other short-duration instruments. The shorter maturity of TIPS appeals to investors who want to achieve a real return above inflation, preserve capital and include a low volatility asset in their portfolios.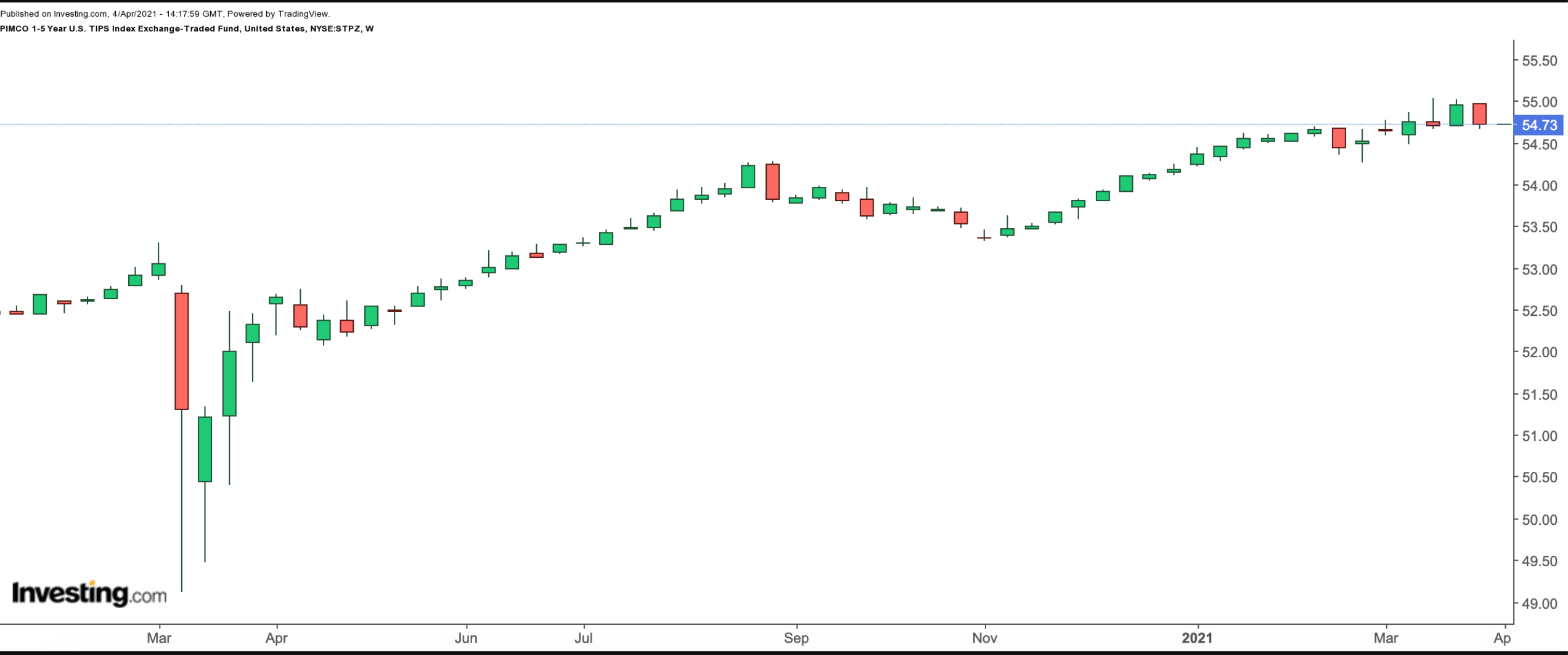 Another essential concept for bond investors is duration, which measures the sensitivity of bond prices to interest rate movements. For instance, if a bond has a duration of three years, its price would fall about 3% when interest rates rise 1 percentage point. On the other hand, the bond's price would go up about 3% when interest rates fall by 1 percentage point.
Thus, a high duration means a slight change in interest rates could significantly affect the value of the bond. Therefore, investors would need to pay attention to the duration of the ETF they are buying. The effective duration of STPZ is 3.11 years.
In the past 12 months, the fund is up almost 6%, and year-to-date, it returned 1%. The ETF hit a record high in mid-March. Those investors who believe relative strength in shorter-maturity TIPS might accelerate in the months ahead could consider allocating a portion of their portfolio to a fund like STPZ.
2. Schwab US TIPS ETF
Current Price: $61.22
52-Week Range: $57.56 – $62.39
Yield: 1.28%
Expense Ratio: 0.05% per year
The Schwab US TIPS ETF (NYSE:SCHP) invests in TIPS of various maturities above one year. Since its inception in August 2010, net assets have reached $16.6 billion.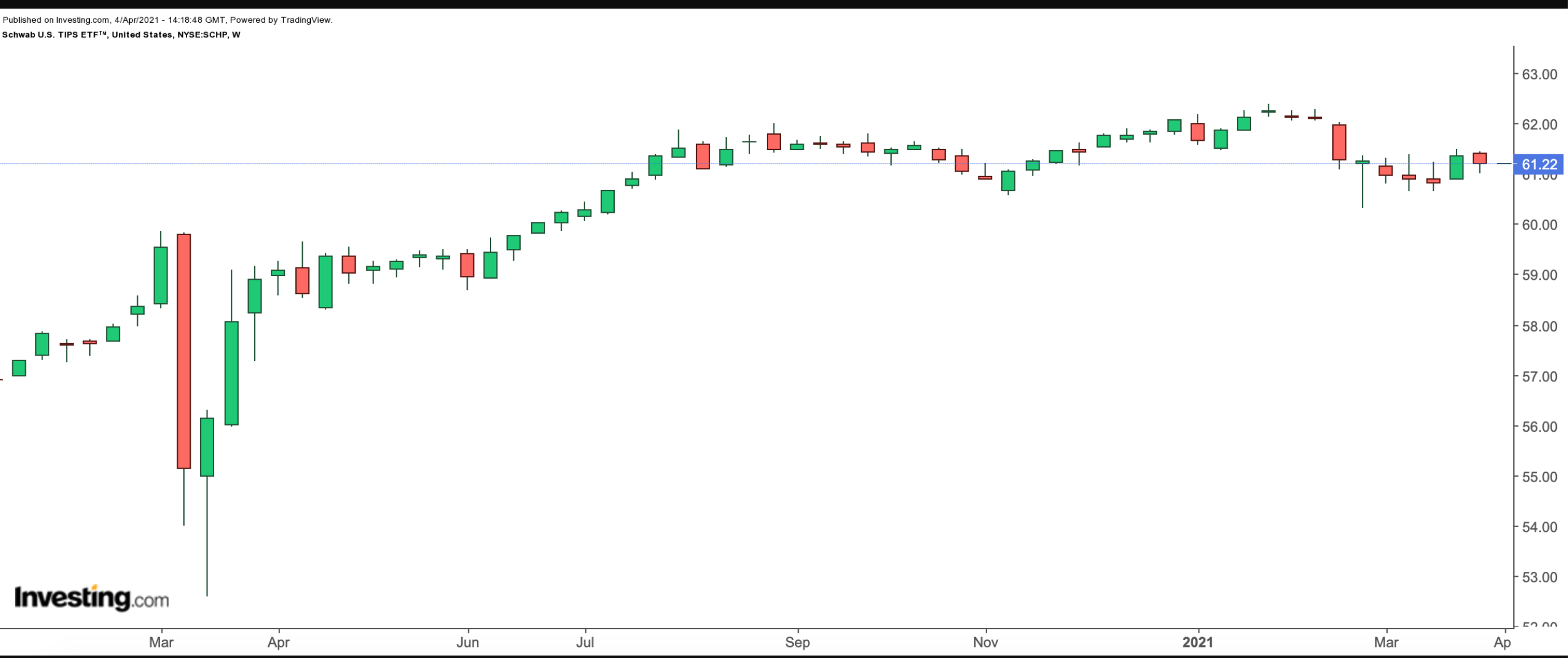 SCHP, which has 46 holdings, tracks the returns of the Bloomberg Barclays US Treasury Inflation-Linked Bond Index (Series-L). The current maturity breakdown is as follows:
Less than 1 Year: 0.01%
1 to 3 Years: 19.70%
3 to 5 Years: 26.06%
5 to 7 Years: 14.27%
7 to 10 Years: 23.07%
10 to 20 Years: 1.62%
20 Years or More: 15.27%
Over the past 12 months, SCHP has returned over 6% and hit a record high in late January 2021. But, year-to-date, the fund is down about 1.4%.
For investors concerned about a continued rise in inflation levels, a fund like SCHP could be an alternative to cash and bonds. For example, they might be appropriate for more risk-averse income investors who might need to access their capital in the near future (say for a purchase).